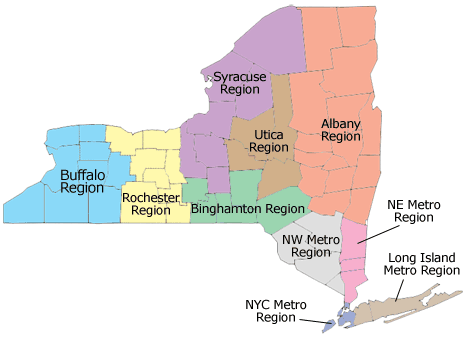 The Greater Rochester Region encompasses 10 counties and 82 school districts. Our main goal is to raise awareness for teachers and district administrators of the benefits to students and staff that the National Board Process provides. We also aim to increase the numbers of teachers in our region pursuing the new National Board Certification process. We collaborate with NYSUT, NYSED, Teacher Centers, BOCES, and districts to continue to spread the benefits of National Board Certification. This year we are providing support to over 20 first time candidates and those going through the renewal process. We were excited to attend the Teaching & Learning Conference in March and share what we learned with our schools and candidates. One of our Candidate Support Providers was a recipient of a Teach to Lead grant in Seattle and continues to work on her project within her school district. They have received national recognition for their work and have made many connections both locally and around the country. If anyone is interested in becoming an NBCT, we invite you to contact Claudine Dixon, NBCT Regional Coordinator of NBCNY Greater Rochester Region.
Claudine Dixon received her BS in Chemical Engineering from Clarkson University and a MSLIS from Syracuse University in 2004. She has been a librarian in the Greece Central School District for 16 years spending the last 14 at Arcadia High School. She achieved National Board in 2012 and has presented awareness sessions at state and regional librarian and science, and technology teacher conferences. She mentors new librarians and university library students. She joined the Social Justice committee of the Greece Teachers Association where she successfully co-authored a grant to secure funding for their many student and community outreach initiatives. ​
John O'Gorman achieved National Board Certification in Early Adolescence Mathematics in 2006. John has been a high school and middle school mathematics teacher for over 30 years. He currently teaches 6th grade ELA and Mathematics at Johanna Perrin Middle School in the Fairport Central School District. John is a former Fulbright Teaching Scholar, participating in a full year Fulbright Teacher Exchange teaching mathematics at Collegiate High School in Blackpool, England. Since achieving his National Board Certification, John has actively supported teachers in their pursuit of the profession's gold standard for accomplished teaching. John has attended the National Board of Professional Teaching Standards Candidate Support Provider Training, the National Board of Professional Teaching Standards Conference and the Summer Academy. He currently co-facilitates a National Board Certification cohort in conjunction with the Greater Rochester Teacher Center Network and Nazareth College. John is a mentor for new teachers in the Fairport Central School District. He is an adjunct professor in the School of Education at Nazareth College and is a member of the NYS National Board Council.
Regional Coordinator
Claudine Dixon, NBCT
Arcadia Library
120 Island Cottage Road
Rochester, NY 14612
585-966-3480
​
Facilitator Trainer
John O'Gorman, NBCT
Johanna Perrin MS
85 Potter Place
Fairport, NY 14450
585-421-2080
​