Caron Lindstrom is a Professional Learning Facilitator for National Board Certification and co-facilitates a National Board Certification cohort. Caron achieved National Board Certification in Adolescent/Young Adult Social Studies in 2007 and renewed her certification in 2016. She received her bachelor's degree in Industrial Relations from LeMoyne College in 1998 and a Master's degree in Teaching Secondary Social Studies from Trinity University in 2003. Caron taught in Prince George's County, Maryland for the first five years of her career. She has been teaching at Rush-Henrietta Senior High School since 2007. She currently serves on NYSED Commissioner Rosa's Teacher Advisory Council.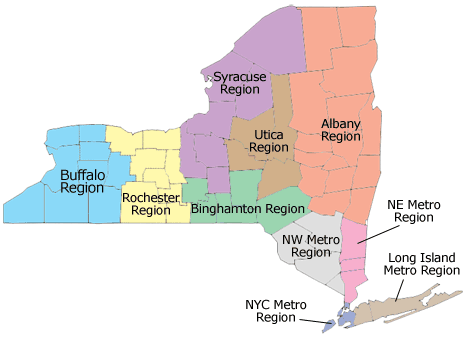 The Greater Rochester Region encompasses 10 counties and 82 school districts. Our main goal is to raise awareness for teachers and district administrators of the benefits to students and staff that the National Board Process provides. We also aim to increase the numbers of teachers in our region pursuing the new National Board Certification process. We collaborate with NYSUT, NYSED, Teacher Centers, BOCES, and districts to continue to spread the benefits of National Board Certification. This year we are providing support to over 20 first time candidates and those going through the renewal process. We were excited to attend the Teaching & Learning Conference in March and share what we learned with our schools and candidates. One of our Candidate Support Providers was a recipient of a Teach to Lead grant in Seattle and continues to work on her project within her school district. They have received national recognition for their work and have made many connections both locally and around the country. If anyone is interested in becoming an NBCT, we invite you to contact Jennifer Heaphy and/or John O'Gorman, the Regional Coordinators of NBCNY Greater Rochester Region.
Get to know these dedicated Greater Rochester Region's NBCT Leaders support educators pursuing National Board Certification!
​
Clockwise: John, Jennifer, Claudine, Tina and Caron
Regional Coordinator
Caron Lindstrom, NBCT
​
Support Near You!
​
Interest Sessions Sponsored by Greater Rochester NBC
Virtual or in-person at Nazareth College
Thursday, March 9th, 4:30-6:00 p.m.
Thursday April 20th, 4:30-6:00 p.m.
Thursday, May 4th, 4:30-6:00 p.m.
​
Facilitator Email Cohort /Registration
John O'Gorman jogorman85@gmail.com Greater Rochester
Tina Evans cevans@fairport.org
Claudine Dixon Claudine.L.Dixon@greececsd.org Greater Rochester
Caron Lindstrom caron.lindstrom@gmail.com
Jennifer Heaphy jheaphy1971@gmail.com
​
The cohort meets regularly at Nazareth College. Contact Caron or Jennifer for more information. All facilitators have had extensive training. Candidates may apply for 3 graduate credits for each component through a partnership with NYSUT's ELT, Empire State College and the NBCNY Network.
​